An open application of four refugees
OCTOBER 2018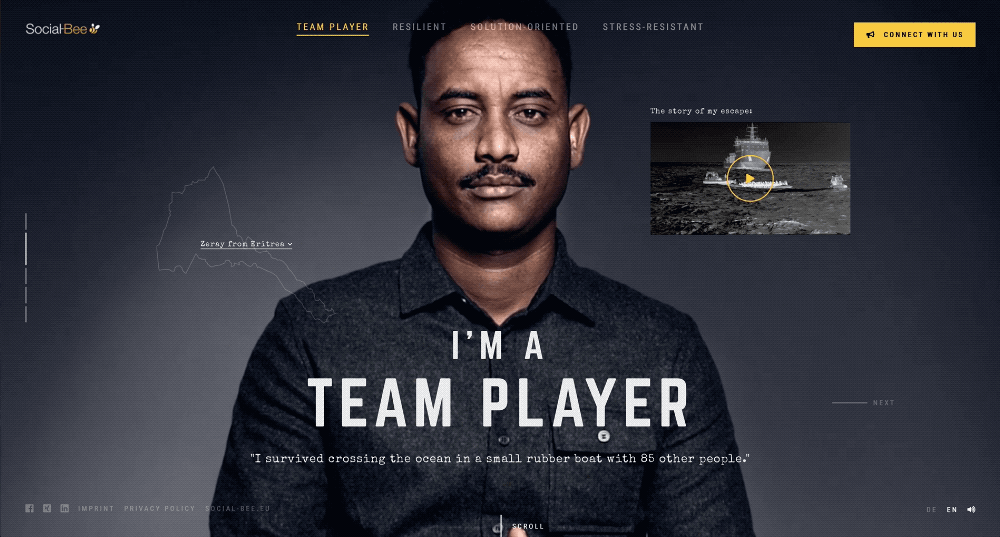 In 2015, 500,000 refugees came to Germany. They fled war and unrest, only to experience even more despair here. Access to the labor market has been denied to many, but without it, their lives stay on hold.
The startup socialbee has employed them in a social temporary employment model. To show their stories and put them in a different light, we developed a campaign that shared the soft skills they gained on the run.
Our Germany-wide campaign generated lots of media attention. The founder even got an audience with Chancellor Merkel and is now an Ashoka Fellow. Also, the campaign is used in a German school book about advertising.
My part: campaign concept, preparation of interview guide, shooting preparation & shooting support, editing, support of the team in press relations (preparation of press kit, release and lead list)
Agency:
Jung von Matt
Art Direction:
Rico Noel
,
Tim Kaun
,
Nico Witwicki
,
Tomic Lee
Fotos:
Tim Kaun
,
Nico Witwicki
©
socialbee